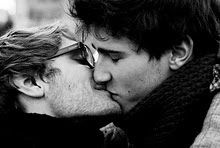 Leo Ford (in suit and tie) figures if he can make it in New York, he can make it anywhere.
His first New York encounter is triggered when he buys a paper at a corner newsstand and sees
a newsboy (Tony Peters) with a big bulge in his pants. Leo imagines the Italian guy jerking off
in a lockerroom then they have sex for real.
http://hotfile.com/dl/64725645/50501...INY82.avi.html