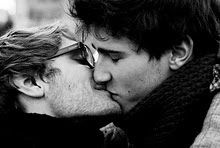 Matthew - Age 24, Occupation: Police, Body type: Slim
Mild mannered Matthew had no idea how painful modelling for Straight Hell would turn out to be. Although he did everything we asked, he admits he had to grit his teeth and think of the money!
Description :
Policeman gets his lights punched out as he radios for backup
Scene 1 : Copper stripped naked, groped and facefucked before being brutally spitroasted by both tops...
Scene 2 : Whipped in the stocks, nose hooked, dildo fucked, forced boot and shoe licking... and a mouthful of fresh piss
Scene 3 : Enforced objectification as a beer holder, punished with whipping for clumsiness, arse roughly abused before we ram an anal hook up his hole
Scene "3,5" (actually Darren scene 5 but it fits between scenes 3 and 4 so I called it scene 3,5 and included it): Darren and Nick boxed into a gloryhole, ordered to suck off a reluctant Matthew, under threat of the electric collars and cattle prod...
Scene 4 : Chained into a pillory and thrashed... until he begs to be jerked off, forced to play our unfair cum-game
Scene 5 : Bastinado, feet raised into stress position with CBT bondage, enforced foot wanking of Stan's cock..