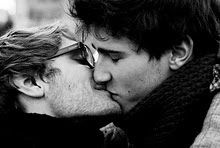 Country
: US
Studio
: Studio 2000
Cast:
Kurt Young, Tony Donovan, Rick Chase, Aaron Lawrence, Kristian Brooks, Lucas James, Scott Lyons
Director
: Jerry Douglas
Screenwriter
: Jerry Douglas
Non-Sexual
: Preston Richie
Winner of 4 GayVN Awards, including Best Video and Best Director
From Jerry Douglas, the award winning director of Family Values. This is his first film since that multi-award winning 1997 epic, and the wait is decidedly worth it. An incredibly hot and romantic story about a basketball team coming together for a reunion of sorts, it features not only some of the dreamiest casts in years (who are also fucking hung like bison) but one of the best facial cumshots I've ever been given the pleasure to, uh, "witness." Considered one of 1999's best, it's a don't miss and is bound to be remembered for years to come. -Keeneye Reeves
From the press notes, courtesy of Studio 2000:
"This special 2007 DVD re-release includes an all-new digital transfer from the original master tapes, a brand new director's commentary from legendary director Jerry Douglas, exclusive out-takes and behind the scenes footage, and model and action photo galleries. Dream Team, the GayVN Best Picture of 1999, takes us back to a five-year high school reunion in 1962. Director Jerry Douglas does an amazing job recreating the incredibly discreet setting of young guys coming of age exploring their homosexual tendencies.
The six characters reuniting were all on the varsity basketball team. By the time of the reunion, the guys have drifted apart. Rick Chase has moved to California to act. Aaron Lawrence has joined the ministry, mainly to suppress his homosexuality and his desire for Rick Chase. Also, Scott Lyons has turned to drinking, and wishes he still could mess around with Rick Chase.
Tony Donovan is a father in an unhappy marriage. He messed around with chum Kurt Young who has grown up to having sex in public places often. Kristian Brooks and Lucas James are functioning lovers, however they tip toe around Lucas James' father, the town's high school coach.
Interwoven through this setup is a set of great sex scenes. We see Rick Chases' nervous encounter with Scott Lyons in the back of a pickup. Sex-pups Kristian Brooks and Lucas James bring Aaron Lawrence home for a threeway. They all fuck each other, but near the end, guilty Lawrence steps out the front door to leave the two lovers to finish up. Tony Donovan shows Kurt Young his private room that he built, which is covered with photos of naked women. It is a fascinating wallpapering of Donovan's homosexual tendencies. In the room, the two meet up twice for sex. Donovan has a huge uncut cock, and he fucks Young like he's releasing years of pent-up energy.
At the end, Chase and Lawrence confront each other about the love for each other. Chase pursuades Lawrence to shed his guilt. The two then have lengthy sex with the two guys fucking each other. Throughout the film, the actors perform well, and do a good job at playing a believable character."
Length
: 1.13 GiB Duration: 1h 56mn 28s 836ms
Video:
MPEG Video at 1 150 Kbps, Aspect: 352 x 240 (1.304) at 29.970 fps
Audio:
MPEG Audio at 224 Kbps, Infos: 2 channels, 44.1 KHz
Download single file
Download from Filesmonster.com
Hotfile-mirror
Hotfile.com: One click file hosting: Studio 2000 - Dream Team (gay.errio.net).mpg.001
Hotfile.com: One click file hosting: Studio 2000 - Dream Team (gay.errio.net).mpg.002
Hotfile.com: One click file hosting: Studio 2000 - Dream Team (gay.errio.net).mpg.003