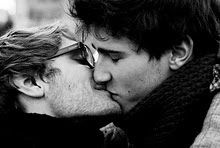 Titulo original / Original title:
Watercolors
Género / Genre:
Drama, romance
País / Country:
USA
Año / Year:
2009
Idioma / Language:
Inglés + subs en Español / English
SINOPSIS
Español
Danny un tímido adolescente que lucha por el oro en los campeonatos de natación y Carter un muchacho con circunstancias familiares en conflicto, hacen que estas situaciones les junten. Danny ayuda a Carter preocupado por la escuela mientras que Carter temerario trae a Danny a su mundo, despertando su pasión para el arte así como su sexualidad escondida...
English
When a gifted, young artist (Danny) arrives at the opening of his first New York exhibition his erotic paintings trigger memories of his first love (Carter), a troubled athlete whose depression and self-denial led to suicide. Through a series of flashbacks we see Danny and Carter struggle with their mutual attraction. With the encouragement of three strong and very different women, Mrs. Martin, a free-spirited art teacher, his best friend, Andy, a young girl with a severe physical impairment, and Miriam, a recovering alcoholic and devoutly religious mother, Danny learns to use his creativity to transcend his grief. Fifteen years later...
Descarga / Download:
http://rapidshare.com/files/38745301...-RpR.part1.rar
http://rapidshare.com/files/38745324...-RpR.part2.rar
http://rapidshare.com/files/38745323...-RpR.part3.rar
http://rapidshare.com/files/38745323...-RpR.part4.rar
http://rapidshare.com/files/38745311...-RpR.part5.rar
http://rapidshare.com/files/38745302...-RpR.part6.rar
http://rapidshare.com/files/38745302...-RpR.part7.rar
http://rapidshare.com/files/38745255...-RpR.part8.rar
Thanks and pass: AssassinZ_Team-RpR
Subs en Español
Leg em Português
Trailer
Capturas / Screenshots