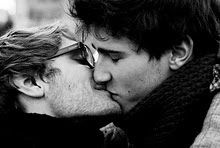 Boys Life 1






• Pool Days (1993)
• A Friend of Dorothy (1994)
• The Disco Years (1994)




Release Year:

1994


Companies:

Strand Releasing
House of Pain Pro.
Medio Pollito Pic.

Country

: USA


Language:

English


Genre:

Short Films Collection


Runtime

: 90 min


Imdb:

tt0112570
• Pool Days (1993)
Director: Brian Sloan
Writer: Brian Sloan
Cast: Josh Weinstein, Nick Poletti
Imdb: tt0107851
Runtime: 27 min
Genre: Drama
Country: USA
Language: English
Justin, a 17-year old entering his final year of high school, gets a job as a life guard at a fitness center. Surrounded by hard bodies of both sexes and instructed by his boss to keep an eye on the steam room to report any men having sex, Justin begins to divine the direction his erotic feelings point. In separate incidents, Vicky and Russell, two older co-workers, hit on him. He tries out responses to both, and then must figure out what to do with his new self-knowledge.
• A Friend of Dorothy (1994)
Director: Raoul O'Connell
Writer: Raoul O'Connell
Cast: Raoul O'Connell, Kevin McClatchy
Imdb: tt0109846
Runtime: 33 min
Genre: Drama
Language: English
Awards: 1 win
Winston arrives at NYU as a freshman, knowing he's gay and wondering where that fact will lead him. He falls hard for Tom, his temporary roommate who's soon to leave for L.A., and it's a big risk to express these feelings. Meanwhile, temptations and opportunities abound in the Village: sex in public toilets, uninhibited people at parties, and knowing Act-uppers. Plus, there are misinterpreted signals, like the ones Winston gets from a Moonie. With help from his hometown friend Anne, Winston keeps his equilibrium and finds the perfect place to meet someone: the Judy Garland rack at Tower Records.
• The Disco Years (1994)
Director: Robert Lee King
Writer: Robert Lee King
Cast: Matt Nolan, Russell Scott Lewis
Imdb: tt0101737
Runtime: 30 min
Genre: Drama
Country: USA
Language: English
Tom Peters looks back to 1978, the year in high school that he came out of the closet. Tom's mom is both sweet and intrusive, urging him to take out girls. She also drags him to her disco-dancing lessons. His friendship with Matt becomes his first love, and then Matt turns on Tom with homophobic venom. Later, Matt and Matt's new girlfriend trash the classroom of an effeminate teacher with more vicious homophobia. At first, Tom joins in heaping scorn on the teacher, then he has to decide if it isn't time to open the closet door. A crisis of sorts ensues with his mom, and disco proves to be a balm.
Download
:
Boys.Life-1.avi.001
Boys.Life-1.avi.002
Boys.Life-1.avi.003
Boys.Life-1.avi.004
Boys.Life-1.avi.005
Boys.Life-1.avi.006
Boys.Life-1.avi.007