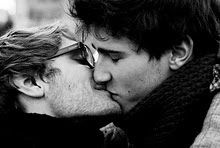 Boys Life 2






• Must Be The Music (1996)
• Nunzio's Second Cousin (1994)
• Alkali, Iowa (1996)
• The Dadshuttle (1996)




Release Year:

1997


Companies:

Strand Releasing
Powers That Be Pic.
Crossroads Films
Open City Films
Wildword Productions

Country

: USA


Language:

English


Genre:

Short Films Collection


Runtime

: 78 min


Imdb:

tt0118762
• Must Be The Music (1996)
Director: Nickolas Perry
Writer: Nickolas Perry
Cast: Travis Sher, Milo Ventimiglia
Imdb: tt0119735
Runtime: 20 min
Genre: Drama
Country: USA
Language: English
Must Be the Music follows a group of Los Angeles teens, three gay and one straight, through a night of romantic misadventures at a hip dance club.
• Nunzio's Second Cousin (1994)
Director: Tom DeCerchio
Writer: Tom DeCerchio
Cast: Vincent D'Onofrio, Miles Perlich
Imdb: tt0119812
Runtime: 18 min
Genre: Drama
Country: USA
Language: English
Vincent D'Onofrio portrays Sgt. Randozza, a beefy and gay Chicago cop. One night, as he's leaving a bar with his lover, a gang of high-school punks with baseball bats decide to do some "fag-bashing". Tony's gun cools them off, and after giving them a brutally verbal dressing down, he forces the leader of the gang, the leather-jacketed Jimmy, to come to his house the next night for dinner. Jimmy shows up, frightened out of his wits, and in a wild scene that includes Eileen Brennan as Tony's ditzy mother, the young tough gets a harsh lesson in sexual tolerance.
• Alkali, Iowa (1996)
Director: Mark Christopher
Writer: Mark Christopher
Cast: J.D. Cerna, Ed Seamon, Kent Broadhurst
Imdb: tt0112321
Runtime: 17 min
Genre: Drama
Language: English
Awards: 5 wins
On his family's farm in rural Iowa, young Jack Gudmanson is wrestling with his sexual identity, not an easy thing to do in the macho world of the Midwest. But things become clearer for him when he discovers via a rusty old lunch box filled with gay magazines that his father, killed in Vietnam, led a double life down on the farm. But as liberating as the discovery is for Jack, it is painful for his grandfather and mother, who have tried for years to keep it a family secret. Now Jack must decide whether to share this new information with his younger sister or allow it to remain buried a while longer.
• The Dadshuttle (1996)
Director: Tom Donaghy
Writer: Tom Donaghy
Cast: Matt McGrath, Peter Maloney
Imdb: tt0225460
Runtime: 23 min
Genre: Drama
Country: USA
Language: English
This is a vivid and poignant tale of a father (Peter Maloney) driving his son (Matt McGrath) to a train station. Along the way, Junior delivers some news to Senior that will forever alter the course of their lives.
Download
:
Boys.Life-2.avi.001
Boys.Life-2.avi.002
Boys.Life-2.avi.003
Boys.Life-2.avi.004
Boys.Life-2.avi.005
Boys.Life-2.avi.006
Boys.Life-2.avi.007