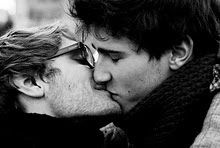 Boys Life 3






• Inside Out (1997)
• Just One Time (1998)
• Hitch (2000)
• Majorettes in Space (1996)
• $30 (1999)




Release Year:

2000


Companies:

Strand Releasing
Covert Productions
Danger Filmworks
Execute Productions
USC, Haut et Court
Cardigan Road Pro.

Country

: USA


Language:

English


Genre:

Short Films Collection


Runtime

: 78 min


Imdb:

tt0265101
• Inside Out (1997)
Director: Jason Gould
Writer: Jason Gould
Cast: Alexis Arquette, Robert Amico, Jason Gould
Imdb: tt0119372
Runtime: 27 min
Genre: Comedy
Country: USA
Language: English
Inside Out was written, directed and stars Jason Gould, son of icon Barbra Streisand and Elliot Gould. It's an autobiographical film about the son of celebrities. Although the film is certainly amateurish, it's plenty of fun and there is some juicy celebrity guessing here.
• Just One Time (1998)
Director: Lane Janger
Writer: Lane Janger
Cast: Guillermo Díaz, Lane Janger, Joelle Carter
Imdb: tt0253166
Runtime: 8 min
Genre: Comedy
Language: English
Awards: 1 win
Lane Janger's film about a straight man's desire to see his fiancée make love with another woman. But what she wants in exchange, is for her man to make love with another man!
• Hitch (2000)
Director: Bradley Rust Gray
Writer: Bradley Rust Gray
Cast: Drew Wood, Jason Herman
Imdb: tt0191181
Runtime: 18 min
Genre: Drama
Language: English
Awards: 1 win
Bradley Rust Gray's 18 minute film about two guys on a drive, one gay and one "straight". This edgy short film is packed with sexual tension and the two boys provide plenty of eye candy.
• Majorettes in Space (1996)
aka

Des majorettes dans l'espace
Director: David Fourier
Writer: David Fourier
Cast: Aurélien Bianco, Cléo Delacruz
Imdb: tt0127505
Awards: 9 wins & 2 nominations
Runtime: 6 min
Genre: Documentary
Country: France
Language: French
Subtitle: English (Hardcoded)
Dimitri, a Soviet cosmonaut of Soyouz 27 likes majorettes. Catherine and Laurent like making love. Jean-Paul II loves airports. Vincent loves boys.
• $30 (1999)
Director: Gregory Cooke
Writer: Christopher B. Landon
Cast: Erik MacArthur, Sara Gilbert, Gregory Itzin
Imdb: tt0212555
Runtime: 19 min
Genre: Comedy
Country: USA
Language: English
The last short was by Gregory Cook and written by Christopher Landon, son of Michael Landon. It's about a young gay man whose father brings him to a prostitute (Sara Gilbert) for his birthday. Instead of sex the two stars bond in this warm and terrific short film, certainly a great ending to the collection.
Download
:
Boys.Life-3.avi.001
Boys.Life-3.avi.002
Boys.Life-3.avi.003
Boys.Life-3.avi.004
Boys.Life-3.avi.005
Boys.Life-3.avi.006
Boys.Life-3.avi.007