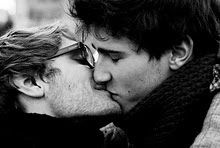 Boys Life 5






• Fishbelly White (1998)
• Late Summer (2001)
• Time Off - After (1990)
• Dare (2005)




Release Year:

2006


Companies:

Strand Releasing
Pink Slip Productions
Safe Machine Pro.
Adam Salky films
Brindstar Productions

Country

: USA


Language:

English


Genre:

Short Films Collection


Runtime

: 110 min


Imdb:

tt0775437
• Fishbelly White (1998)
Director: Michael Burke
Writer: Michael Burke
Cast: Mickey Smith, Jason Hayes
Imdb: tt0192028
Runtime: 22 min
Genre: Drama
Language: English
Awards: 6 wins
From the maker of The Mudge Boy comes this excellent gay short film. Beneath a railroad bridge a young rural gay man begins to his explore his gay feelings with the aid of an understanding friend. For you lovers of The Mudge Boy, Fishbelly White is an early short version of the film. Beautifully shot and acted this tale of young gay man in lust with another is outstanding. And for fans of tighty-whities, the railroad bridge scene is a ten.
• Late Summer (2001)
Director: David Ottenhouse
Writer: David Ottenhouse
Cast: Erol Zeybekoglu, Christopher Nee
Imdb: tt0312269
Runtime: 28 min
Genre: Drama
Country: USA
Language: English
A photographer remembers that special summer that he spent with his somewhat older cousin, the feelings that were awakened, and the unexpected turn of events behind his "best" photo. Also shot gorgeously in the Boston area, this short film is the story of a boy's sexual awakening that's so powerful it wrenches in pain. The actor playing Josh looks like a young Mark Wahlberg and as a special bonus, he appears totally naked in the swimming home scene.
• Time Off - After (1990)
Director: Eytan Fox
Writer: Eytan Fox
Cast: Gil Frank, Hanoch Re'im
Imdb: tt0098993
Awards: 1 win
Runtime: 45 min
Genre: Drama
Country: Israel
Language: Hebrew
Subtitle: English (Hardcoded)
A young soldier is being treated very harsh by his commanding lieutenant. Just before they will be sent out to Lebanon, their battalion gets one day off to relax in Jerusalem. There the soldier finds out the lieutenant has sex in a public park.
• Dare (2005)
Director: Adam Salky
Writer: David Brind
Cast: Adam Fleming, Michael Cassidy
Imdb: tt0450256
Runtime: 16 min
Genre: Drama
Language: English
Awards: 3 wins
High school senior Ben secretly lusts after bad boy classmate Johnny. After Ben gives Johnny a ride home one night, the boys end up in Johnny's swimming pool and have an encounter that breaks the rules and blows Ben's mind.
Download
:
Boys.Life-5.avi.001.html
Boys.Life-5.avi.002.html
Boys.Life-5.avi.003.html
Boys.Life-5.avi.004.html
Boys.Life-5.avi.005.html
Boys.Life-5.avi.006.html
Boys.Life-5.avi.007.html