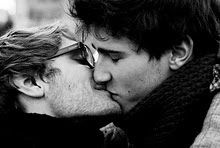 Boys Life 6






• Bugcrush (2006)
• Davy and Stu (2006)
• Doorman (2006)
• Heartland (2007)





Release Year:

2007


Companies:

Strand Releasing
Pollywog Pictures
SANA Film
No Pressure Pro.
Kallos Pictures
Wildword Productions

Country

: USA


Language:

English


Genre:

Short Films Collection


Runtime

: 66 min


Imdb:

tt1104686
• Bugcrush (2006)
Director: Carter Smith
Writer: Carter Smith, Scott Treleaven
Cast: Josh Caras, Donald Cumming
Imdb: tt0492940
Runtime: 36 min
Genre: Drama, Horror, Mystery
Language: English
Awards: 1 win
The centerpiece of the collection, Carter Smith's film is a powerful amalgam of a tale of gay sexual obsession/seduction and a horror thriller like you've never seen before. An adorable red-haired geeky gay teen falls head-over-heels obsessed with a dark mysterious tough boy. The suspense builds as the tough boy takes his new friend to his dark home deep in the woods. With realistic dialogue and unforced acting, the filmmaker takes us to some wholly unexpected places.
• Davy and Stu (2006)
Director: Soman Chainani
Writer: Anton Dudley
Cast: Travis Walters, Nicholas Cutro
Imdb: tt0814071
Runtime: 13 min
Genre: Drama, Romance
Country: USA
Language: English
Based on Anton Dudley's award-winning play. As the sun sets over a swampy Scotland bog, two boys meet in the darkness as part of a nightly ritual. Part character study, part love story, DAVY & STU is a heartwrenching look at the intensity of adolescent romance and forbidden love.
• Doorman (2006)
Director: Etienne Kallos
Writer: Diana Fithian, Etienne Kallos
Cast: Jamil Mena, Stephen Sheffer
Imdb: tt0924133
Runtime: 17 min
Genre: Drama
Country: USA
Language: English
Ethereal and emmiting a sheen of loneliness, Etienne Kallos' film tells a story of a Latino doorman who is seduced by a new tenant, a rich, emotionally-damaged white boy. Their affair is brief, tumultuous and doesn't end well. Emotionally wrenching with few words said, this short film blew us away with its powerful images and characters.
• Heartland (2007)
Director: Mark Christopher
Writer: Mark Christopher
Cast: Corey Sorenson, Lachlan Nieboer
Imdb: tt1039964
Runtime: 10 min
Genre: Drama
Country: USA
Language: English
H.G. (Corey Sorenson) living a happy and openly gay life in New York must return to Iowa to help his alcoholic father save the family farm. He no longer feels he is a member of his family tribe but digs into the work along side his father and a hired hand, Ryan (Lachlan Neiboer), who has his own set of problems raising his younger brothers and sisters following the death of their parents. He comes out to his high school sweetheart, Dawn (Taylor Gwynn) who raises a ruckus at the nrews and outs him to the whole town, forcing his father to take to his bed with a bottle. Alone one night in the most desolate part of town he runs into Ryan and discover the farm hand is not exactly the ladies man people think he is.
Download
:
Boys.Life-6.avi.001
Boys.Life-6.avi.002
Boys.Life-6.avi.003
Boys.Life-6.avi.004
Boys.Life-6.avi.005